Steve Lapp enjoys working with young horses, teaching them ground manners, lunging and saddling for the first time. Steve has done extensive work on trail training with the ranch's young horses, and is a past winner of the Sherrif's Department Desert Trail Trials. Steve has also trained in the past with riders such as reiner
Craig Schmersal.
Cindy Lapp showed her Quarter Horse, Mr. Gees Rick A Tic, through Prix St. George - especially rewarding for Cindy since Rick was a third generation from her own breeding stock.
In 2011, Cindy competed in her first "Extreme Mustang Makeover" and placed 6th with her mustang Wyatt, and the following year went Top Ten on Hannah. She is a Certified trainer through the Mustang Heritage Foundation for starting and training BLM mustangs.
Cindy currently trains and shows Wyatt in Dressage. In 2012 Wyatt was the #1 Mustang in the nation at Training Level, #1 at Vintage Training Level, 4th in Silver Spur Vintage in the Region, and Circuit Champ Training Level for CDS San Diego Chapter. In 2013 Wyatt finished as #1 Mustang First Level and #1 Vintage First Level. He also went Top 100 All Breed and Top 20 Vintage in the nation!
Cindy has trained with Hilda Gurney and attends clinics given by other Olympic riders and trainers, such as Kathleen Raines and George Morris. She is a member of the Association of Professional Trainers and Instructors, which is recognized by both USDF and CDS, and is an "L" Dressage Judging Program graduate. She is a certified Reined Cow Horse judge, and in 2013 she began judging the sport of Western Dressage, as well.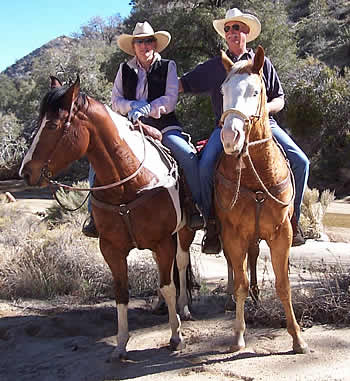 Steve and Cindy Lapp own and manage the
Yucca Valley Equestrian Center
.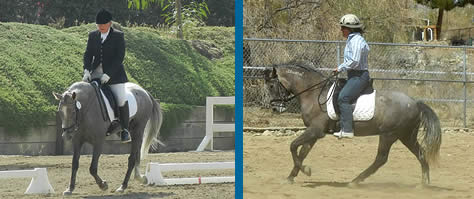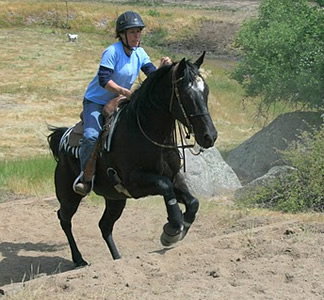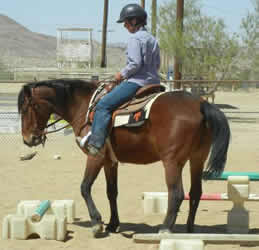 Assistant Debbi Sullivan has an A.A.S. Degree in Equine Studies - Stable and Farm Management and has over 20 years experience in the horse industry.
Debbi assists Cindy with horse care at the ranch, and also leads trail rides for riders of any skill level.
Debbi and her horse GS Sundown Slim work on trail and 'Extreme Cowboy Race' type obstacles; they have also ridden with Amy Walden at McCarty Reining to sharpen "Slim's" reining skills.
Debbi is currently working with Ezekiel, her Mustang gelding, in Western Dressage. "Zeke" was adopted from the BLM as a 3 year old in 2012 as part of the TIP Program, and Debbi worked with Cindy as part of her "Train the Trainers" program so she could do all of Zeke's training herself, under Cindy's expert guidance. For more information visit our Mustang Page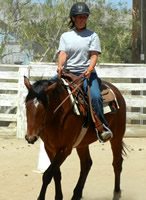 Read Zeke's Training Journal