What Is It, and Is It For You?
If you are an adult who has little to no experience with horses, but have always wanted to own one or just be involved, this clinic is for you! If you are a parent considering getting your family involved in horses, and you want more information, this clinic is also for you!
Many people find that they would like to enter (or re-enter) the horse world as an adult, but are unsure where to begin. This clinic, combining discussion with "hands-on" sessions, is designed to help you get the information you need before you jump in - because with horses, you need to be careful where you step!
Riding and owning horses is an incredible experience, and the physical and mental benefits you receive from your involvement with horses are different from any other sport or hobby. There is the potential for great enjoyment, and getting the right start is important to keep you physically (and financially!) happy.
These private clinics are a unique opportunity to see just what it would be like to own your own horse. Unlike a general trail ride, where you are simply set on a horse and follow a set trail, Horse Sense allows you to get an idea of the work that goes into preparing for your ride and caring for your horse. Held by appointment at the Yucca Valley Equestrian Center, the entire program will be tailored to your interests and questions based on the above topics.
The clinic will last approximately 3 hours, depending on the number of participants. Dress for the weather, but long pants are encouraged for your safety and comfort even in summer weather. Footwear should be a boot with a small heel (cowboy or hiking-style boot), though sneakers will be acceptable. No sandals or flip-flops are allowed. If you already have riding gear, you are encouraged to bring it - chaps, breeches, helmets, etc. You WILL get dirty and dusty, keep that in mind! Also, bring plenty of water.
Please give us a call to set up your private clinic. You may have from one to eight participants, and though the clinic is geared to provide the type of information an adult will be looking for before investing in a horse or riding hobby, children ten and over can participate with their families. This clinic is a good way for your child to learn the type of responsibility involved in having their own horse - the fun, but also the work! Cost is $75 per person.
To sign up, or for more information:
email: deserttrailrider@aol.com
ranch phone: 760-365-4433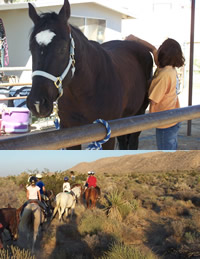 What You Will Learn
Discussion Topics include:
> safety (watch your toes!)
> horse & human psychology (and how the two can meet)
> care (feeding, housing, grooming, shoeing, the vet)
> should you buy? (your choices, options, and alternatives)
> general expenses (it costs HOW much?)
> where to go from here (continuing education)
Hands-On Sessions include:
> catch, lead, and groom your horse
> tacking up (saddling and bridling)
> basic riding - arena session
> basic riding - trail ride