~ News & Brags ~
what's going on...
also join us on Facebook!
2015 Show Season is in Full Swing!
We're still riding, having tons of fun at home and at shows - but we've been using the power of Facebook to display our photos!
Please join us on our YVEC Facebook page to keep up with our latest exploits. We haven't given up on our website by any means, but with the ease and accessibility of Facebook, we can get our photos, brags, and events up quickly. Besides, we love sharing and reading everyone's feedback! Come like our photos, and at the end of the year we'll select the favorites and highlights to post in our photo gallery to save for posterity.
YVEC at RAAC 2014!!!

August 9 & 10, 2014, found Yucca Valley Equestrian Center riders at the Del Mar Horse Show Park, participating in one of the region's biggest dressage competitions. And they did great!

The event was the California Dessage Society's Southern Division Regional Adult Amateur Competition (know as RAAC). YVEC had three riders qualify this year, Cristina, Suzette, and Lindi.

Cristina Kayvon-Pierce and Baltimore took first place in the Training Level Novice Division, with a score of 74.8%. That score also earned her the award for Adult Amateur Novice Division High Score, and placed Baltimore as the High Score Trakehner for the show, all divisions and levels.

First place in the Intro Level Novice Division (Test C) went to Dr. Lindi Kopecko and Fernie, with a score of 68%

Suzette White and Frisk placed 8th in Training Level Test 3 Novice and 9th in First Level Test 3 Novice.

Congratulations to Cristina, Suzette, and Dr. Lindi, and their trainer Cindy - all your hard work and dedication to this fun but demanding sport has really paid off!

Cristina and Baltimore




A lot of work goes into the show prep, too!

Dr. Lindi and Fernie

Cristina and Baltimore
The 2014 Show season is off to a great start
Cindy & Wyatt, Suzette & Frisk, Haley & Hannah, Helen & BB, and Debbi & Slim all made their 2014 show season starts this March. Riding in dressage schooling shows, each pair did very well. Good scores and the personal goals that were achieved say this is going to be a fun year for YVEC.

Cindy & Wyatt showed their first time at Second Level.
Suzette & Frisk and Haley & Hannah showed in Training Level.
Helen & BB and Debbi & Slim showed in Basic Level Western Dressage.

Haley and Hannah
---
2014: Cows come to YVEC
Ten lovely black cows have taken up residence at YVEC! Riders who are intersted in learning cow work now have the opportunity to ride with these guys and allow their horses to work cows. The below photos show CIndy and Dr. P. helping the cows to stay healthy and happy!

---
Hey YVEC! Congratulations on a great 2013 show season!
2013 was a good show year for boarders and students at YVEC in all disciplines. From traditional Dressage to Cowboy Up (Western Dressage, Extreme Obstacle Trail, and Cow Events), our friends worked hard and it paid off in a lot of fun as well as big improvements for everyone.
Dressage Events
| | |
| --- | --- |
| | Cristina & Princeton reached some personal bests at Training Level Dressage |
| | Haley & Hannah have turned into a super pair at Training Level for their first show season together. Haley is doing a great job getting into tune with this young horse. |
| | Cindy & Wyatt took #1 Mustang in the nation at First Level Dressage; and their national titles include Top 100 All-Breed First Level and Top 20 Vintage First Level. |
Cowboy Up Events
| | |
| --- | --- |
| | Helen & B.B. had some excellent runs in the Trail Division and good scores in the Western Dressage Division, making for a wonderful first show season for the pair. |
| | Bill & Mac participated in their very first show ever and did a fine job! |
| | Dr. Petrus & Penny competed in both the Western Dressage and Trail Divisions. It was a first show season for this pair as well, and they earned very respctable marks. |
| | Alyce & Smokey had their first outing together in Western Dressage, and are looking forward to more! |
| | Vickie & Slim participated in their first trail class at these events, and did very well. |
| | Debbi & Slim also participated in one show in both the Trail and Western Dressage, and had a great time as well as getting some nice scores. |
Check out the Gallery for photos from this year, and just wait 'til next year!
---
Congrats to Cindy and Johnny!
Cindy Lapp is the new owner of Johnny, whom she broke to ride for Cindy and Ken Crow. Johnny is now a resident at YVEC and Cindy hopes to compete in Western Dressage and Cow Events when his training is complete. Congratulations Cindy!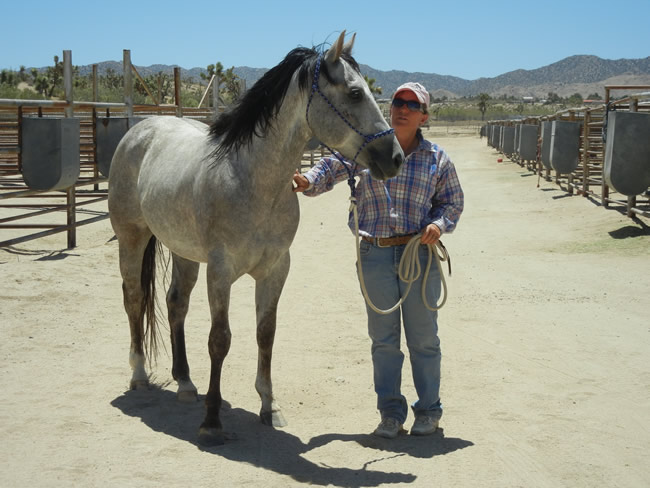 Congratulations to Cindy on her Extreme Mustang Makeover Performance, and to Joe on his New Horse, Hannah!
Cindy and Hannah gave a series of excellent performances to place 9th overall in the 2012 Extreme Mustang Makeover in Norco on May 20th. They did a great job through all three days.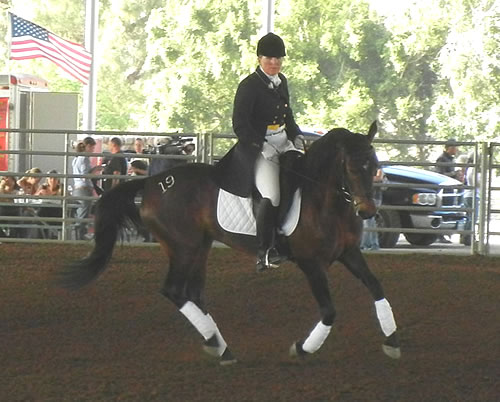 Hannah tied for the second highest selling price of the event, and her lucky winner was Joe, the owner of Big John, already a boarder here at YVEC! We wish them the best of luck and lots of fun as they learn with each other!
We are also proud of Joe for the other horse he bought! At the auction, one of the trainers described the charity work she is involved with, and stated that she'd really like to bring her horse home with her. The children at her Theraputic Riding program had fallen in love with Gypsy, and she wanted to continue her training so Gypsy could become a therapy horse. Other bidders chose to try to buy gypsy, and the price became too high for the trainer to compete with. Rather than ler her lose the horse, Joe began bidding, and won Gypsy - then promptly donated her back to her trainer for use in the Therapy program. Good luck to Gypsy and her trainer!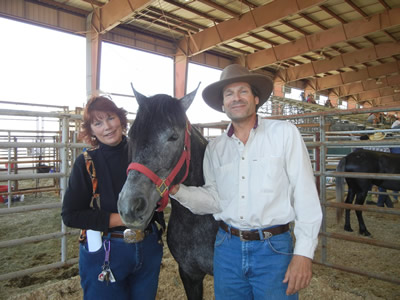 Good Job Johhny!

Cindy and Johnny are making great progress in their training these days! Johnny belongs to Cindy's sister-in-law, Cindy, and her husband Ken. He has been in training with Cindy for a couple months now, and is doing very well!
Welcome Princeton!

New boarder Princeton and owners Kristina and Daniel joined us at YVEC just in time for the Spring Eq-Games! We look forward to riding with them often!
Welcome Ezekiel!

Zeke is a 3 year old mustang adopted from BLM Ridegcrest by Debbi Sullivan on February 13th (in a wind storm, no less!). Zeke is part of the BLM's TIP program (Cindy is a certified TIP trainer), and Cindy will be working with Debbi as part of her 'Train the Trainer' program. Cindy's unique program allows those with an interest in training their own horse to do so, with her supervision, guidance, and aid to be sure everyone progresses to their desired goals. We wish Debbi and Zeke luck & fun in their journey!

Congratulations to Art Strong!

His new colt was born 2/6/12! He's by Curb Appeal (AQHA) and out of Tick Tock Total (ApHC) The picture below was taken at 13 days old, so we know he's a strong little guy! Good luck Art with your new colt!
Welcome JC!

Congratulations to Kristen and welcome to her new horse Japanese Comet, or "J.C." After an extensive search for a new event horse, Kristen tried 5 year old ex-racehorse JC in Northern California. The pair clicked instantly and now JC is enjoying the desert while Kristen begins his schooling over jumps. Good luck Kristen and JC!
Welcome Santos!

Congratulations to Amanda and welcome to Santos! Amanda met Santos at this year's Extremem Mustang Makeover in Norco, CA, while she was there grooming for Cindy and Wyatt. After the Makeover, Santos was adopted at auction by another Moronogo Basin resident. When she was unable to keep Santos, Amanda stepped in and adopted the 3 year old BLM mustang as her own. Santos is now in training with Amanda and Cindy and is doing well and learning new things. Amanda and Santos were in the Yucca Valley Town Grubstakes Days Parade in May, will be participating in the MBHA Pony Express this October, and hope to start their show career soon. Good Luck Amanda and Santos!
September 3rd and 4th, 2011 - Cindy competes at the Temecula Valley CDS Dressage Show

Cindy rode Blondie and Rick, and handled Suzette White's 2year old Frisk, at the show in Temecula. Blondie competed in Training Level on tests 2 and 3, and came out with a first, a second, and two thirds in her classes! Cindy continues to work with Blondie on advancing her movements and improving consistency in competetion.
Rick competed for the first time at the Prix St George level, and Cindy got to debut her shadbelly at this level! They did very well at their first outing, bringing home two 4ths.
Frisk competed in the In-Hand Conformation class with Cindy at the lead, acheiving his highest score to date! He brought home a 1st in the 2year old Stallion/Gelding class, and was Reserve Champion 2year old Stallion/Gelding. Congratulations to Cindy, Suzette, and all the horses! Be sure to check out more photos from the day on the Gallery Page.


Blondie Zee, Training Level

Mr. Gee's Ric-a-Tic, Prix St. George

Frisk, In-Hand Conformation
Karen & Jesster's First Ride

Congratulations to Karen on her very first ride on her horse Jesster! Jesster came to YVEC a recently gelded adult Arabian who had never been ridden. In trianing with Cindy since his arrival, Jesster has been making great progress on his saddle training while Karen has been honing her riding skills on her other lovely horse, Palo. On Saturday, April23rd, Karen got to ride Jesster for the very first time! They pair stayed with walking around the arena until they get to know one another better, but they did a good job for their first time!
Welcome Aero!

Congratulations to Claire Youmans on getting her new horse Aero!

Claire is fostering Aero, a Tennesse Walking Horse, from White Rock Horse Rescue. He is currently in full training with Cindy and Claire rides him twice a week, with the eventual goal of getting involved in Mounted Search and Rescue.

Good luck Claire and welcome Aero!




---




Briar Goes For a Ride

Briar is a three year old Andalusian-Thoroughbred cross owned by Cynthia Collins that came to YVEC recently to begin her under-saddle training. After ground and roundpen work, Briar had her first ride this week - the first week of March, 2011! She did very well from that first day, working at the walk, trot, and canter in both directions. She is coming along better every day. Congratulations Briar!

---

Cindy Becomes a Trainer for the Extreme Mustang Makeover, Norco, CA, 2011
The Extreme Mustang Makeover is a competition/fundraiser/conservation effort developed by the Mustang Heritage Foundation to showcase the trainability and versatility of the BLM Mustang. Trainers must apply and be accepted to participate in an event. If selected, they receive their horse on a set day, then have 90 days to train that horse for a final 2-day competition that demonstrates what they've learned both on trail and in the arena.

Cindy was accepted as a trainer for the event in Norco, CA, that takes place in May - she received her horse on Friday, February 11th! The YVEC will be keeping a running journal of their progress on the Extreme Mustang Makeover Page, and putting progressive pictures in our gallery and on Facebook. Check back to see how the pair is doing, and join us in Norco on May 13th and 14th to cheer them on! If you are interested in owning the mustang Cindy trained, all the participating horses will be available for auction following the event on May 15th!

---

Apple Valley gets a new "Starr"




Congratulations to Brenda Waddington of Apple Valley on her purchase of Starr Struckk, also known as "Sissy". The Arab mare takes her place as a 'horse about town', trail riding and receiving all the pampering she can handle. We wish them fun and luck!

---

New to the Morgan Barnhold

Congratulations to Capt. Bill and Helen Morgan on their purchase of McGuiness, a 6 year old Gypsy Vanner cross. "Mac" will pair with Bill for trail riding at home, and he and Helen are working at YVEC with Cindy on his dressage moves. Good luck and have fun!

Slim takes 3rd place at MBHA "Not So" Extreme Cowboy Race

Debbi Sullivan and GS Sundown Slim came in 3rd place at the Morongo Basin Horsemen's Association "Not So" Extreme Cowboy Race April 10th, 2010. The obstacles at this year's race, held at Geronimo Ranch, were excellent and very similar to the sanctioned Extreme Cowboy Events. Slim and Debbi performed well, ending in a three-way tie for first place in the standings when the horsemanship points were tallied. Race time was the deciding factor that placed the pair in third overall. They look forward to the next competition!


MBHA Race 4/10/10

Slim Plays Well with Others at Cowboy Race Practice

Debbi Sullivan and GS Sundown Slim took part in the California Cowboy Racers Extreme Cowboy Race practice on Saturday, April 3rd, 2010 at Liberty Oaks Ranch in Murrietta.

This was a chance for Slim and Debbi to try out some of the bigger obstacles for the first time, and Slim handled it well! The pair took part in a mock race that day, and though the race was not 'placed', they received 5 out of 6 pluses for working obstacles, as well as comments of a very smooth and flowing ride. See more photos in the gallery.

Suzette White Moves Ahead into New Show Season 2010

Suzette and Tally have started their 2010 show season. Struggling with connection at First Level, they had scores of 55% and 59% in tests 1 and 2 at Dressage Getaway in Thermal on Feb. 13. Spending two days at the Del Mar Horsepark on Mar. 12 and 13 for the Dressage Affaire, they saw an improvement in their scores at First Level: 56%, 61%, 61%, and 62%, good enough for two first place and two third place ribbons, and qualifying them for the 2010 Regional Adult Amateur Championships (RAAC) in August.

Carol Bell takes prize at LA Equestrian Center

Carol Bell, who got her start with her first riding lessons here at YVEC in 2007, won her class at the CRHA Reining Show at the LA Equestrian Center in January, 2010. Congratulations Carol!


YVEC Reiners participate in Willowbrook Show

Cindy Lapp and Debbi Sullivan rode in the reining class at Willowbrook Riding Club's Western Show on October 14th, 2007. Cindy rode Good For Plenty ("Midge") in NRHA pattern 1, and achieved a stellar performance including some of Midge's best slide stops yet.

Debbi Sullivan rode her 3 year old horse G.S. Sundown Slim ("Slim") in this, his very first show, for the experience - and ended up winning the class. Slim continues to improve on his reining moves every day.

Although it became too dark for photos of the actual reining runs, there are a couple of our reining participants in the gallery.

The Mustang Babies clean up in Bishop!

The seventh Annual Wild Horse and Mustang Show in Bishop, CA, was held on September 28 - 29, 2007. YVEC resident mustangs D.H. Callahan and Mustang Kani competed in the show with their owners, Laura and Rich Jaeger and Samantha Olesiak.

Sam and Kani too 3rd in Mare Halter 2 yrs and Under, 1st in In-Hand Trail; with a score of 79%, 1st in In-Hand Barrel Racing, and 2nd in In-Hand Pole Bending. This led to Kani being named Champion High Point In-Hand Pair, and was awarded a leather Western show bridle.

Laura and Cal took 4th in Gelding Halter 2yr and Under, 5th in In-Hand Trail with a score of 74%, and 3rd in In-Hand Pole Bending.

The group was awarded 1st place in the horse Costume Contest (Chain Gang), and 2nd in Barn Decorating (Jail Cells). The mustangs are 1 1/2 years old this year, and were adopted by their owners in October of 2006.

Photos of the event are in the gallery.

Laura Jaeger guides Fern to first place

Owner/trainer Laura Jaeger led Picfernadera to a first place in Dressage Sport Horse In-Hand 2yr Fillies with a score of 70.3% on September 16th in Ramona, CA. In the Championship class, Fern received her second Qualifier for Region 7 finals. Laura also entered the Jr/Amatuer Handler Class and received first place with a score of 74.3%.

Photos in the gallery.

Pickfernadera takes Grand Champion

Fern received Grand Champion American Warmblood Filly 2yrs & Under at the Cool August Night Show on August 26th, 2007. Fern scored 63.2% at this show, which was held at the Los Angeles Equestrian Center. She also placed 7th in Dressage Sport horse In-Hand 2yr Fillies with a score of 68.6%.

Photos in the gallery.

Pickfernadera ("Fern") earns top marks in Ramona

On July 22, 2007, YVEC resident Fern took first place in Dressage Sport Horse In-Hand 2yr Fillies with a score of 76.4%. at the show in Ramona, California. In the Championship class, she received Qualifier Third Place, which qualifies her for Region 7 finals in Northern California in October. Fern is shown and trained by owner Laura Jaeger.

See her winning photos in the gallery.

YVEC Dressage Riders make strong marks at the Gold Rush Farm Dressage Show in Phelan, CA

Maureen Hartness marked a 56 percent on her adopted mustang, Lord Shelby Fettiplace, on Saturday, July 16th at the High Desert Chapter CDS show in Phelan, CA. This was Shelby's second show, and Maureen's first, and the pair turned in a lovely performance on their Training Level Test 1 in the Adult Amateur Division. Shelby also completed two Training Level Tests in the Open Division, with Cindy aboard, and earned a first place ribbon!

Mr. Gee's Ric a Tic entered two Training Level tests, ridden this time by Katie Tate in her first Dressage Competition. Katie earned a first and second place for her tests.

A large group from YVEC turned out to support Katie and Maureen in their first show, and we are very proud of our riders! We look forward to their next competition.

Photos are in the Gallery.

"Shelby" makes his debut at ECI Rancho Mirage

On May 19th, 2007, YVEC resident and BLM adopted mustang Lord Shelby Fettiplace made his debut in the dressage ring at ECI Rancho Mirage, earing scores in the 60s for his two Training Level tests - high enough to place him first for both tests! "Shelby" was adopted and received his early training from owner Maureen Hartness, and he is now in full dressage training with Cindy at YVEC.

Cindy rode him in this, his first competetion; as well as competing in fourth level classes with her own horse, Mr. Gees Rick a Tic.

Pictures of both horses are in the Gallery.

YVEC Riders compete at Chino Hills Equestrian Park

May 6th, 2007, was a day of very rewarding 'firsts' for Yucca Valley Equestrian Center students. Megan Lay took two first place ribbons at the Hunt Cup Series Show in Chino Hills - not only was this Megan's first time competing in jumper-level classes, it was also the first time she has ever ridden a timed jump-off event. Under her guidance, her mount Spring Fling made all the tight turns necessary to win the classes.

For Caitlin Hendrick's young horse Dan Delany, this was his first show over fences. Dan took ribbons in both hunter and jumper classes, with the highlights being a second place ribbon in a flat class with over 15 participants, and a third in an over-fences class with over 15 participants.

Both riders are looking forward to their next competetions. Pictures in the Gallery.

Cindy and Mr. Gees Rick A Tick compete at ECI Rancho Mirage

Cindy and Rick rode two Fourth-Level Dressage tests at the Dressage Show at ECI Rancho Mirage on March 17th, 2007 (St. Patrick's Day!) . Despite high temperatures the pair did very well, garnering not only good scores but a comment from the judge of "Nice ride!" after the first test!
Cindy participates in George Morris Clinic
On December 19th and 20th, 2006, Cindy was invited to participate in a jumping clinic with reknowned hunter/jumper judge and Olympic Equestrian Team Chef D'Equip George Morris. The Clinic took place at E.C.I. Rancho Mirage, and Cindy rode the YVEC-bred Quarter Horse mare, Summer. Cindy participated in the clinic to gain new insights into teaching and training techniques for her hunter/jumper students, as well as to improve on Summer's performance over fences.
The clinic covered everything from appropriate tack and show-ring dress, to complicated series of gymnastic jumps designed to test and refine even the most advanced horses and riders. It was a fun and educational two days for both spectators and participants, and a high point for Cindy was hearing George Morris comment that Summer, who has just begun her jumping career, was a lovely horse!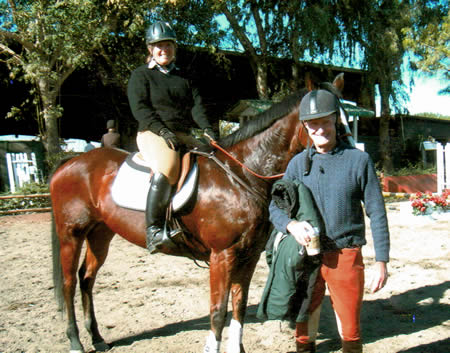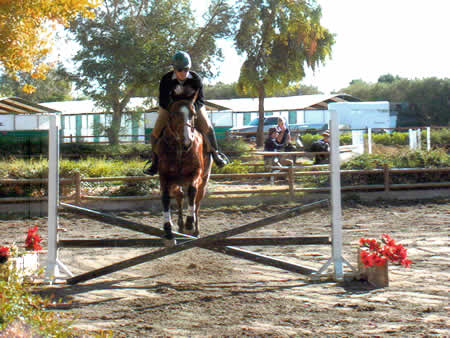 Yucca Valley Equestrian Center welcomes our newest addition!
On May 6th, 2005, our Quarter Horse mare Good For Plenty ("Midge") gave birth to a healthy new stud colt, sired by Monolito's Gold of Eastside Ranch. This little buckskin guy represents third generation breeding for Yucca Valley Equestrian Center, as mom "Midge" is a product of our breeding program as well. Mother and foal are doing well!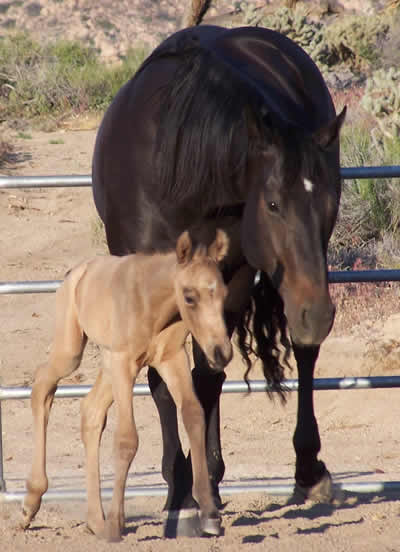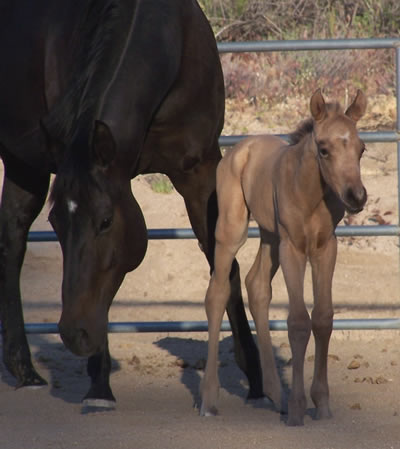 On February 6th, 2005, Yucca Valley Equestrian Center was host to the first Ranch Horse Competition, with 3 more events planned for this year. The competitions are held in conjunction with Yucca Valley's Ranch Horse Partnership, and are open to riders and their horses at various skill levels.

The Competition featured a dry work pattern event, a trail obstacle course, and two cow events - sorting and penning, and rail work.

Cindy and Mr. Gees Rick a Tic

Cindy and Country Girl's Cadillac (Murphy) had a very successful 2004 show year. They were High Score Horse and Rider combo at four triple rated shows, and finished the season as CDS Pomona Chapter Training Level Horse of the year. Cindy and Murphy finished in the top 20 horses at the CDS Futurity and were 12th in the state Training Level.

Cindy and Mr. Gees Rick a Tic had a successful season as well. The pair competed in Third and Fourth Level, and Rick qualified for the CDS Championship show (but was not shown). Lately Cindy and Rick have been schooling with Axel Steiner, preparing for Prix St. George.

For fun, Cindy rode her mustang Nevada Sage in a few shows this year. He did quite well for a little wild thing! Watch for him next year with one of Cindy's Junior Riders.