The Extreme Mustang Makeover is a competition/fundraiser/conservation effort developed by the Mustang Heritage Foundation to showcase the trainability and versatility of the BLM Mustang. Trainers must apply and be accepted to participate in an event. If selected, they receive an ungentled BLM Mustang from a holding facility on a set day, then have 90 days to train that horse for a final 2-day competition that involves skill and riding tests on both trail and in the arena.
Cindy was accepted as a trainer for the second time for the event in Norco, CA, that takes place in May. Last year she finished the event in 6th place, and husband Steve purchased her Makeover horse Wyatt at the auction following the event. So Wyatt got to come home to YVEC! You can see Wyatt's adventures here: EMM 2011.
Cindy receives her 2012 horse on Friday, February 3rd. This year all trainers will receive a mare to work with!
Check back here often to see how the pair is doing, and join us in Norco on May 18th and 19th to cheer them on! If you are interested in owning the mustang Cindy trained, all the participating horses will be available for auction following the event on May 20th!
---
Day 1: Friday, February 3, 2012. The Pick-up See the pictures of today in the GALLERY.
Like last year, the week before the new horse was to arrive a special pen was prepared where the mustang would live, begin his training, and get used to his surroundings. A large outdoor pen close to the main tack room was chosen for its size and also its placement. The pen is quiet, but allows the horse a close view of nearly any activity going on, from horses being groomed and led to those in riding or turnout. Exposing the new horse to the normal elements of daily ranch life is a good way to begin desensitizing him.
Round pen panels were placed across the corners to 'round out' the pen. The reason for this is to allow the most basic training of moving the horse to take place without any corners for the horse to become trapped in. Once the horse is able to lead, he will be worked in a traditional round pen and move to a regular stall.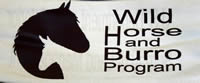 The YVEC crew set out at 7am to pick up Cindy's mare. It was sunny but cool, and there was very little waiting at BLM Ridgecrest when we arrived. Cindy's mare was quickly located in the holding pens, and the BLM cowboys had her sorted and loaded in no time at all! See the pictures of today in the GALLERY.
She ran into that trailer with focus and purpose - and crashed into the opposite end. Because of her determination and will, Cindy decided to name her "Ziva". So with a slightly swollen nose, Ziva was on her way home.
Ziva is a bay mare with a tiny white star. She was captured in September 2010 from just outside the Reveille Herd Management Area in Nevada. Her papers state that she gave birth to a foal that first year at Ridgecrest, and now she's ready to be trained and adopted!
Ziva arrived at YVEC the same way she got into the trailer - fast and determined! She flew out and straight into the far side fence. That was last time today that she wasn't cautious. From here on in, she paid close attention to where everyone was and what was happening around her.

After a few moments of rest, Cindy entered Ziva's pen and began lightly moving her around. She trotted and cantered the length of the pen several times, and very quickly learned that when she stopped and focused on Cindy, she was rewarded with time to relax. Creeping closer during each rest break, Cindy's first touch on the mare came about 50 minutes after her arrival at YVEC.

Ziva was no pushover, though! She stayed cautious with her attention on Cindy for the remainder of the session. She worked on allowing a touch with the rope, a training stick, and the hand. She stood very well for the rope to be drawn over her head and swung over her neck and back, but objected with some powerful and fast kicks when it touched her hind legs or went around her behind. She enjoyed the training stick the most, allowing to Cindy to scratch and rub her repeatedly. Each time she got restless and moved away, she was worked around the pen until time for another breather. In this manner, Cindy and Ziva worked through a great first day!
---
Day 2: Saturday, February 4, 2012. Getting to Know You
Cindy worked with Ziva four times throughout the day on Saturday, just getting more comfortable around each other. The second workout Cindy was able to touch her face, jaw, and neck. On the third workout, Ziva was caught without having to first work in circles around the pen. The fourth workout was even better - Ziva began leading on the rope, following Cindy willingly without a struggle!
---
Day 3: Sunday, February 5, 2012. The Third Day Fussies
By now Ziva knows just enough of what she should do to have figured out a way to avoid it! This is a pretty typical step in training, and when Cindy began her only session (an evening one), she knew she'd have to backtrack a little in order to move forward. Ziva seemed to have reverted back to the first day - even before that, maybe! She had to be worked around the pen in order to be caught, and from there she tried every trick to avoid being touched or coming forward toward Cindy. She ran off, she reared up, she did all the things she could to convince CIndy to just walk away a leave her alone today. She obviously doesn't know Cindy very well yet!
With patience and repetitition, Ziva again got to a place where she could be touched and rubbed, but she didn't make it too easy. It was obvious she enjoyed being scratched - once she allowed CIndy to approach, she grew quiet, put slack in her rope, and just relaxed. Then, as if just waking up, she'd fly away again and the process would restart! Cindy ended the session on a good note, with patting and rubbing on both sides, all the way down to her shoulder today. She is much more wary of people being on her right side, so Cindy will continue to focus on gaining her trust and spending some extra time 'evening her out' so she has two good sides!

---
Day 4: Monday, February 6, 2012. People Are Strange
Ziva was much easier to catch today. She had two sessions, am and pm, and this time she was sacked out with a towel on the end of the training stick. She did very well with this. It seems she's more content to be flogged all over with a towel than she is to allow any human touches! She continues to be misatrustful of hands, but did allow petting to her withers today.

---
Day 5: Tuesday, February 7, 2012. Meeting Friends
Today was a big day: Ziva was tied up to her stall for a while today. While tied, she got to meet some ranch friends, Amamnda and Aislinn, who spent some time walking...jogging...HOPPING around the vicinity of her stall while she stood! Ziva got to see a wide range of human behavior and movement, and learn that not only did none of it hurt her, but also that the craziness stopped when she did! Aislinn and Amanada times their funny dance to match her movements - if she fussed, they did. If she stopped, they did. In the end she allowed these too new friends, and Janet, too, to pet her.
Cindy was able to pet and touch her left side today, but she continues to be shy about the right.
---
Day 6: Wednesday, February 8, 2012. Out & About See the pictures of today in the GALLERY.
Miss Ziva continues to amaze and confound her growing number of fans around the ranch. She continues to mistrust hands reaching for her, though she will tolerate it and enjoys the petting she receives, she's still timid about the whole process. But give her a rope, a blanket, a towel - no problem!

After a full flagging and rubdown with the towel, Ziva went out for her first walk around the property. Occasionally reluctant, Ziva took her first stroll around the pens pretty much in stride. From there, Cindy led her through the barn several times, even stepping into an enclosed stall.
Ziva took a tour of the obstacle course, walking over some cavaletti and some natural logs, stepping over a bridge several times, and even going through the 'Cowboy Shower'. She did all this with barely any hesitation and seemed quite comfortable with it all.

The only moment of panic came when Ziva stepped out of the stall and hit her hip on the door. She got scared and panicked, and on the cement floor of the barn it was a tense moment. Cindy dropped her rope to allow her to regain her balance, and once she did, she knew she was free!
Of course she had to enjoy her freedom for a bit, taking a tour of the ranch again and especially visiting the cute geldings in the back pasture. But soon she entered an empty stall where Cindy picked up her rope, and she finished out her session working again on accepting aproaching humans and hands.

After her lunch break, Diva once again walked the property, being a perfectly behaved lady the entire time! To top off her day, she was introduced to her first sheet! She didn't mind being dressedin the sheet one bit - drape her with material all you like, just try not to touch "Madame" too much while you do it! She truly is a DIVA Ziva!

See the pictures of today in the GALLERY.
---
Day 7: Thursday, February 9, 2012. The Dread Blue Tarp
We all know about it. The dreaded, horse-devouring blue tarp. For a horse as alert and protective as Ziva, the blue tarp might just be more than she can handle!
Well...no. No problem with the tarp.

Poke her with a stick, groom her with a fork, shake, rattle, and roll it! Ziva stayed wary but accepting. After all this, she took another walk, and in the afternoon worked on meeting people.
---
Day 8: Friday, February 10, 2012. Review
The first of many review days! Taking time to let information sink in, and to repeat something she's already been successful at, is important to Ziva's development. Today was spent with more leading and checking out the farm, and more approach and retreat with new faces.
---
Day 9: Saturday, February 11, 2012. Round Pen Bound!
That's right - she doesn't like to be looked at, and she's not fond at all of being touched - but she round-pens great! CIndy worked her in the round pen for the first time today, introducing the concept of real work with purpose, rather than the 'get acquainted' stuff she's done so far. And Ziva did very well!
She is a smart girl, and very responsive, but she continues to struggle with the idea of trusting people. So Cindy also gave her time today to stand and be approached by the many people coming in and out for lessons on a Saturday. Ziva received many forehead rubs and words of encouragement today!
---
Day 10: Sunday, February 12, 2012. Day Off
A much deserved break for both Ziva and Cindy.
---
Day 15: Friday, February 17, 2012. A New Start
After a lot of careful consideration and with much regret, on February 16th Cindy made the decision to withdraw Ziva from the competition. After nearly two weeks, Ziva had learned many "things", but was no closer to trusting humans than she had been the day she arrived. She remained completely on guard and on the edge of flight the entire time, and that is no way to have to live. Ziva was in terror of people feeding her, cleaning her stall, or even just walking past her pen. You can train a horse to do many things, but you can't force them to trust you, and CIndy decided it would be unfair to the mare to try to push the kind of fast-paced training program a Mustang Makeover necessarily takes.
Ziva returned to her herd on Friday, February 17th, and looked much better running towards them than she ever had with us! In exchange, Cindy received a new mare, this one a four year old from the Twin Peaks range. She is tall and lanky and seems much more at home in a day than Ziva had in two weeks. She is as yet unnamed - Cindy is waiting for her personality to shine through!
| | |
| --- | --- |
| We wish CIndy and her new mare good luck! | |
---
Day 16: Saturday, February 18, 2012. The Basics
Today Cindy began her training program again, starting at the begining with turn and face and touching. By Saturday evening the new mare was allowing Cindy to approach and pat her.
---
Day 17: Sunday, February 19, 2012. Quick Review
Sunday was almost a day off, with just a quick review session. The new horse is also showing curiosity when ranch staff approach her to feed. A good sign!
---
Day 18: Monday, February 20, 2012. Rolling Along
It looks like our new girl will be called "Hannah"! Hannah and Cindy had 3 sessions today. She was sacked out with a towel and began leading, which are both going very well. Today she was brushed over her entire body - including the legs! She was fitted with a new halter and is no longer required to drag her lead rope around, and another bonus - she got the blue ball to play with! So far a very smart girl.
---
Day 19: Tuesday, February 21, 2012. Saddle Up
Hannah got her first saddle today! She didn't have any negative reactions at all, even when walked in her pen. She and Cindy played "Patty Cake" with the big blue ball - Cindy bounced it next to her and off her sides and the saddle, even setting it on top of the saddle. Hannah takes it all in stride - she is a very willing partner!

---
Day 20: Wednesday, February 22, 2012. To The Round Pen - See the pictures of today in the GALLERY
In the morning, Cindy and Hannah worked again on saddling and bouncing the ball. Hannah is curious but not particularly worried about anything happening around her. After playing in the pen, the pair ventured out for the very first time!

Cindy kept Hannah on her long lead, taking her all around the ranch, through the barn, an into the toy yard behind the arena. She got to walk over the bridges, some cavaletti, and some natural log obstacles. She did a great job - she was always careful to stop and sniff and examine an obstacle before just leaping onto it, but once she assessed it wouldn't hurt her, she willingly walked over everything.
The afternoon session found Cindy and Hannah ready to go to the roundpen for the very first time! Hannah was fitted with a bridle and snaffle bit first. She objected a little to having something put into her mouth, but again, once she determined it wasn't going to hurt anything, Hannah accepted her new gear.

The first roundpen workout went great, with Cindy simply asking Hannah to move around in either direction. When she had the idea of movement, Cindy gave Hannah some new sensations to think about as she procedded to secure the reins to the saddle in various positions, and with varying degrees of tautness. The purpose of this is to teach her to give to pressure, similar to what she learned from dragging her leadrope the first few days, but this time the pressure comes from the bit.
By tying the reins first to one side, then the other, Hannah learned to follow her nose when she felt pressure on the bit. Again, she took her training all in stride. Once Cindy can see that Hannah understands how to follow her nose consistently, it will be time to get on!
---
Day 21: Thursday, February 23, 2012. Patience, My Dear.
Cindy and Hannah went to the roundpen twice today for workouts. Afterwards, Hannah stood tied on her own, to practice being patient while Cindy taught some arena lessons. She did very well with the waiting!
---
Day 22: Friday, February 24, 2012. Driving
After her morning round pen session, Cindy fitted Hannah with the long ropes and ground drove her for the first time! Through ground driving, Cindy is able to communicate with Hannah through the reins and a bit, just as she will be when she's on her back. Hannah responded well to cues given through the reins.
In the afternoon, the pair ground drove again, then as a reward for hard work on a warm day, Hannah received her first squirt off with the hose! Once clean and fresh, Cindy gave Hannah a tail bag to protect her luscious long hair, and braided an unruly section of her mane to one side. She's going to be the belle of the ball in Norco!
Today saw one more new thing - the dreaded Chick Flag! Hannah met the pink and yellow flag with the little yellow chick on it today, and she tolerated its flapping and fluttering with her typical curious-but-not-worried attitude!
---
Day 23: Saturday, February 25, 2012. The Ride
Yes - after a quick ground drive review to test her steering and brakes, CIndy got on Hannah for the first time today! As it turned out, their biggest issue today was a spectacular LACK of fireworks! Hannah decided there was no need to move with Cindy on her back, so Amanda stepped into the round pen and "lunged" her, to help the pair get going. They concentrated on walking and trotting, though a couple canter steps did get slipped in! Hannah learned to turn in both directions with a rider aboard, and to stop. After all that - she got her second bath!
---
Day 24: Sunday, February 26, 2012. Review
New for today: Hannah got tacked up at the railing at Cindy's tack room, like a big horse does! She went for her second ride today, and did great without a lunge person in the center. She worked on walk, trot, and even did two circles of canter!

---
Day 25: Monday, February 27, 2012. Make Yourself Useful
The weather today was uncooperative to say the least. Cold, threatening rain, and extremely windy. So instead of a third ride, Hannah got to learn how to pack up the ranch for weather! She was able to work on her leading and ground manners with Cindy while they took down the jumps in the big arena, picked up and stored all the things that were blowing around, and carried buckets into the suppliment room in the barn. Hannah also got a new room today, she's been moved to a regular pen with a partial cover over it, just in time to keep her dry tonight!
---
Day 26: Tuesday, February 28, 2012. Round and Round
A great ride in the round pen, even though she had yesterday off. Today was Hannah's first day in the big round pen, where she really had the freedom to move and turn easily.
---
Day 27: Wednesday, February 29, 2012. Jury Duty
Not for Hannah of course - for Cindy! Cindy had to spend the entire day in court getting selected for jury duty. She stopped by in the morning to work with some other horses and boarders, then tied Hannah up for a little patience practice. After an hour and a half (during which she was quiet and sweet), Hannah got released by Debbi to play in her big pen again.
---
Day 28: Thursday, March 1, 2012. Working with Others
Another ride in the big round pen today for Cindy and Hannah, and the ride went great. Hannah is getting better at cantering in both directions and is becoming more responsive all around. Today when Cindy left for court, Hannah work on patience again, and then she was led back to her pen by Kristen! It was the first time someone besides Cindy was at the other end of her leadrope, and she behaved herself very nicely for Kristen, too!
---
Day 29: Friday, March 2, 2012. Review
Concentrating mainly on improving the canter, Hannah and Cindy worked in the round pen again today.
---
Day 30: Saturday, March 3, 2012. Just Like a Big Girl
Welcome to day 30, the last day on this page! Hannah's next updates will be next door at Day 31 - 60.
It was a big day for day 30, too. Hannah no longer wears her halter in her pen. She has been safe and reliable to catch for long enough! And of course, today was another round pen ride - but this time, she ventured out of the pen when the schooling session was over!
With the help of Arrow and Claire, Hannah and Cindy took their first riding tour of the ranch. They followed Arrow down through thr dressage court, then around to the toy box and over the bridge. Next, everybody moved into the big arena, where Hannah and Cindy tackled the 'car wash' curtain and wove their way through the jumps, and Hannah dragged a log with the rope dallied around the horn. After that the two horses and riders made their way around the pens and back to the tack area!
As cool down today, Hannah stood tied by the back pastures, where the goats Mel and Clementine live. Hannah didn't mind meeting the goats at all, though she was concerned when Clementine (who is a plus-size goat) leaned on the fence and dragged herself all the way along it for a good scratch! But Hannah stood like a champ, and remianed there quietly while Cindy taught some lessons. All in all, an exciting day for the team!
---