---
Day 61: Tuesday, April 3, 2012. A Long Day
Welcome to the final section of Hannah's training journal! Today was a great but a long day, beginning with a fantastic turn-out in the big arena with Wyatt! It was Hannah's first time in the 1 acre turnout, and she had a ball running around. Wyatt wanted to run and play together, but Hannah let him know earlier on that his boyish antics would NOT be tolerated. So they had fun together, separately! When it came time for catch up, Hannah walked right up to Cindy like she's been doing this her whole life.
Today saw lots of riding - there were a lot of lessons scheduled, so Hannah alternately stood and rode for each of them. At the end of the day, she walked back to her stall next to the little red wagon! It's a regular red wagon child's toy that had been brought out earlier. It rattles as it rolls, and is often accompanied by a child running along as it's pushed! Normally the wagon is a somewhat scary training aid, something for a horse to get used to. Hannah would have cocked an eyebrow at it if she had one. Other than that, she didn't care! Even when it followed her home, she wasn't worried. A brave girl!
---
Day 62: Wednesday, April 4, 2012. The Switch Up
After Susan got Hannah ready today, Cindy took her to the big arena for a review workout. When that was done, Susan got on her to walk her around the pens and cool her out - the first time she's had another rider on her! Since Debbi and Slim and Louise and Levi were headed out the gate for a short trail ride, Susan went along. Hannah did great on trail with Susan, confidently leading the other two slow-pokes along!
---
Day 63: Thursday, April 5, 2012. Standing
Today was a quiet day for Hannah, because she started out being fidgety! After her own work, she stood in the arena with Cindy aboard, just relaxing while Cindy taught. Maybe standing still is not so bad after all!
---
Day 64: Friday, April 6, 2012. Trail
After a turn out with Wyatt in the big arena, Cindy and Hannah enjoyed a nice trail rider with Jordan and Jericho!
---
Day 65: Saturday, April 7, 2012. Working Girl
Today Hannah got to be a working girl. She had a tough day being ridden during 3 morning lessons, and then she led a trail ride! Cindy used her as her guide horse for a trial ride with some out of town visitors. After that she got a bath and went to her pen, leaving Cindy to comment, "Good day, good horse."
---
Day 66: Sunday, April 8, 2012. Off
A quiet day relaxing.
---
Day 67: Monday, April 9, 2012. Review
Today was a normal ride and review day. Hannah continues to improve all the time.
---
Day 68: Tuesday, April 10, 2012. A Change of Tack
In the morning Hannah and Wyatt had another recess session in the big pasture, and Suan caught and tacked Hannah up when they were done. The morning workout consisted of beginning rollbacks in addition to her normal work, then some real fun. Hannah and Cindy worked with a raincoat, Cindy taking it on and off and placing it on the fence several times. Then Cindy brought out the big pink and yellow springtime flag - and on a windy day like today, that flag can CRACK! Hannah took it all in stride though - a little bit of crazy f=doesn't upset her at all!
After lunch, Hannah was back in the arena, this time wearing a dressage saddle for the very first time! Cindy started her working over poles and crossrails for a beginning jumping lesson. When that was done she got to relax in the big arena again, then she was treated to an afternoon of beauty with Jan, who caught her out of the arena, put her in the wash rack, and washed, conditioned, and braided her tail for her!
---
Day 69: Wednesday, April 11, 2012. W-I-N-D
Oh, it blew. And it sprnkled, and threatened to rain harder - but mostly it blew!
---
Day 70: Thursday, April 12, 2012. Taking A Step Back
During today's workout in the big arena, Hannah decided to pull a stunt she hasn't done in a while - take her shoulder out and run through the bit. Cindy has worked with her on this enough, and today instead of fighting with her, CIndy chose to just take her back to her beginning training, and let Hannah remind herself how to behave.
Dismounting in the big arena, Cindy tied Hannah's head around to the side, levaing her to fight it out with herself until she remembered that the best way to get out of the situation is to give to the bit and follow her nose, not to fight against it and run out with her shoulder.
After that lesson she got to relax and think about it for a while, then go back to work after lunch, applying her remembered knowledge!

---
Day 71: Friday, April 13, 2012. Weather weather, Go Away!
Too much wind, too much nasty. Friday the 13th indeed.
---
Day 72: Saturday, April 14, 2012. Review
A good ride at the ranch today.

---
Day 73: Sunday, April 15, 2012. Pioneertown Road Again
Hannah returned to Cindy and Steve's house today for a weekend get-away. They rode along the road again, and visited some neighbors along the way!

---
Day 74: Monday, April 16, 2012. Endurance
Last year's Makeover involved long days in the saddle, and Cindy wanted Hannah to be ready. So today they started out with a three hour trail ride up into Water Canyon and the Sawtooth Mountains. Hannah got to work on some very steep hillsides, and over some varied terrain including large rocks.
After a brief lunchtime rest, they were back at it, working in the arena. Hannah is proving to be very cooperative and resilient, ready for whatever is thrown her way!

---
Day 75: Tuesday, April 17, 2012. Jumping...Once Too Often!
Hannah came back to the ranch in the morning, and Cindy rode her during morning lessons. Then Hannah got a jumping lesson - she did great with a review of crossrails, then she got to do a little vertical, the X in combination with the vertical, and she also jumped the barrels today! Christina was on hand to snap a couple photos:
After jumping, Cindy and Hannah worked on their freestyle routine, which is shaping up nicely! And then...Hannah went to Cindy's house again for the evening.
Hannah hadn't shown much interest in the two horses at Steve and Cindy's house, but for some reason, when those horses left for a trail ride that evening, Hannah decided she HAD to go too. So she used her new skills and jumped over a lowered corner of the arena fence! She made it out and allowed Steve to catch her very nicely. Unfortunately, she cut her left front leg in the process! Cindy bandaged her tightly for the evening, and she's going to need to see the vet in the morning!
Here's Christina's little video of her happier jumping experience!
---
Day 76: Wednesday, April 18, 2012. First Doctor Visit. See Pictures in the Gallery: caution, images of suturing wound
Today Dr. Petrus came out to take a look at Hannah's leg. An exam showed that the damage wasn't too bad, but a couple sutures would be required. Hannah stood beautifully for her exam and while Dr. Petrus cleaned and scrubbed the would. When she injected the lidocaine to numb the area, Hannah did very well - but of course this stings so she wasn't perfectly still!
Cindy held up the opposite front leg while the doctor began the suturing, and Cindy was glad for the time she had spent hobble training Hannah and teaching her patience! The back side of the wound proved to be very painful, though, and it was decided to give Hannah a mild sedative to expedite the stitching.
Hannah got the rest of the day off, of course, though she didn't seem bothered at all with her sutures later in the day!
The pictures in the gallery show the would close-up, and the subsequent medical procedure, if you'd like to see it.

---
Day 77: Thursday, April 19, 2012. Rest
Today was another rest and recooperation for Hannah's leg. She seems to be doing just great, but Cindy thought a full day of rest would be beneficial. She will start with light work again tomorrow.
---
Day 78: Friday, April 20, 2012. Taking it Easy
Hannah got out for a walk today while Cindy taught Cindy B. a dressage lesson. Hannah felt ready to go, Cindy wanted to preserve her leg and stitches!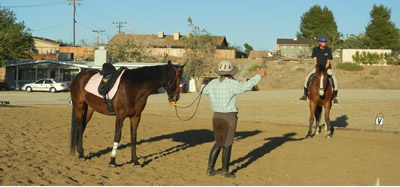 ---
Day 79: Saturday, April 21, 2012. Walking
Just a little walk to get out today.
---
Day 80: Sunday, April 22, 2012. Sympathy Pain!
Today Hannah didn't get to work - Steve decided to show solidarity by getting a nice cut on his finger, and needed to go get stitches himself! Hopefully they will both feel better soon!
---
Day 81: Monday, April 23, 2012. Light work
Just to keep her going.
---
Day 82: Tuesday, April 24, 2012. More Light Work
Today Cindy and Hannah stepped things up a bit, but they are not quite back to full work.
---
Day 83: Wednesday, April 25, 2012. Versatility - See Pictures in the Gallery
Cindy and Hannah went back to work today, as Hannah's leg has been looking very good and she's been feeling ready to go! Today was a review of all the things they've done up to this point: Dressage work, obstacle work, and even a little jumping! Hannah hadn't forgotten anything and they had a great day - check out the pictures in the Gallery!

---
Day 84: Thursday, April 26, 2012. Review
Cindy and Hannah worked on a bit of everything again!
---
Day 85: Friday, April 27, 2012. Review
Lots of time spent in the arena today.

---
Day 86: Saturday, April 28, 2012. All This - and Cows Too?!
Saturday night Hannah had an evening outing - she and Cindy went to Parker Arena in 29 Palms to ride under the lights! They arrived in the late evening, just when the Parker Arena regulars were finishing up their cow work for the night. Hannah didn't work cows today, but she did get to meet them. She didn't think much of them until they moved - then there were much more exciting!
She and Cindy went right to work, though and got to do some night riding with the lights on in a new place. Getting ready for that Makeover arena!
---
Day 87: Sunday, April 29, 2012. Day Off
No work today.

---
Day 88: Monday, April 30, 2012. Long Trails
Today was another long day, with a three hour trail ride into the SawTooth Mountains.
---
Day 89: Tuesday, May 1, 2012. Review
Today was a workout in the arena at Steve and Cindy's house, then another trail ride along Pioneertown Road.

---
Day 90: Wednesday, May 2, 2012. Chasing Flags
Hannah may not have gotten to work with the cows Saturday night, but she does know how to do it thanks to the 'mechanical cow' today! Today she worked a flag that 'ran' back and forth across the end of the arena, thanks to Steve being the 'pedal power'. He set up a bike to work a rope that tracks a flag left and right, according to which way the bike person pedals! Hannah got some experience in following the movements a cow makes as its worked along the arena, by following the flag today!

---
Day 91: Thursday, May 3, 2012. Review
So it's now day 91????? Yes, the way the competition is scheduled this year, between horse pick up dates and actual show date is a little longer than it was last year. It seems trainers actually have 104 days to train this year - on Thursday, May 17th, they will pack up and report to the Norco show grounds for day 1 of the Extreme Mustang Makeover. Hannah and Cindy are ready to go, putting the polish on their freestyle moves and getting ready for those longs days of the show.
On May 18th and 19th, all the horses will be evaluated as they perform a wide variety of tasks, from trail rides in different settings to arena work of all kids. They will even be scored on appearance and body condition. Then on Saturday night, May 19th, the Top Ten Finalists will compete in a Freestyle work-off, each trainer and horse showing off their best skills in dramamtic ways, and set to music. The tickets for Saturday night are already on sale at the Makeover site - you can buy online or at the event. The rest of the event is free and spectators are welcome. See the Norco page HERE for tickets, trainer info, class schedule - everything!
On Sunday, May 20th, all the talented horses will be available for purchase at an auction. Each trainer will bring their horse out one last time, and the bidding begins. If you're intersted in Hannah, she will be looking for a good home that Sunday! Come out and see her perform. If you have any questions about her, you can email Cindy at callenlapp@aol.com.

---
Day 92: Friday, May 4, 2012. Patience
After being ridden most of the morning, Hannah played 'chair' during Cindy's afternoon lessons. The events at the Makeover come one after the other, on the same day, so it's important Hannah doesn't "know when the quarter is up". She's not one of those horses that won't behave if you ride longer than an hour a day!
---
Day 93: Saturday, May 5, 2012. Watch and Learn
Hannah didn't have to work today, just observe! The MBHA held their show at the ranch, and Hannah got to see all the fun and listen to the loudspeaker a bit.
---
Day 94: Sunday, May 6, 2012. Trail
Back to Water Canyon Ranch (Steve and Cindy's house) for a trail ride in the mountains.
---
Day 95: Monday, May 7, 2012. Review
Trail ride, arena work on lead changes, and some time spent working the flag "Cow" made a well-rounded day.
---
Day 96: Tuesday, May 8, 2012. Review
Today Cindy and Hannah practiced everything they know! They worked on being slow and perfect in everything they do.
---
Day 97: Wednesday, May 9, 2012. Real Cows!
Cindy and Hannah headed down to Tony Mendoza's Eastside Ranch today. Tony specializes in Working Cow Horse activities, and Hannah got her first chance to actually work a cow. She did great - Cindy commented that Hannah doesn't get flustered about the cows. In short order she had the process figured out, and Cindy even had to ask her to wait to follow the cow a time or two. She was so attuned to the cow that she moved slightly before they did - though she was always right in the direction she anticipated the cow was going to go! A great time for a beginning ranch horse!
---
Day 98: Thursday, May 10, 2012. Review
A quiet day of riding during morning lessons.
---
Day 99: Friday, May 11, 2012. Cows Again.
Back to Eastside Ranch again today, to put a little polish on the cattle start Hannah got the other day. Thanks so much to Tony Mendoza for all his help and advice!
---
Day 100: Saturday, May 12, 2012. Day Off.
Time for a rest!
---
Day 101: Sunday, May 13, 2012. Happy Mother's Day!
Today Cindy and Hannah worked in-hand, preparing for Friday's events!
---
Day 102: Monday, May 14, 2012. Review
It's almost time, and everything is getting shined up!
---
Day 103: Tuesday, May 15, 2012. Jump Review
It was all about the hunters today as Hannah got a review on her jumping. She calmly and easily sailed over a variety of jumps, including the stone wall, the wooden gate, and several combinations. Hannah is always so cool - nothing flusters her at all! But as with the cows, Cindy only had to monitor Hannah's confidence level. She's so calm and so smart, that she anticipates the next move. She doesn't fight for it or get too strong about it, she just goes on confidently! Her good judgement and basic common sense can be an asset, but Cindy always reminds her that she's supposed to wait to be asked, in case her rider has a different plan in mind!
---
Day 104 and 105: Wednesday, May 16,and Thursday, May 17th, 2012. Final Review

Hannah and Cindy spent all Wednesday and Thursday morning reviewing, and practicing their freestyle routine with music. It's looking great, and they are ready as can be!

Today, Thursday, they left in the afternoon and arrived at the Norco showgrounds to check in and prepare for the next three days. So this will be our last Hannah update on the site until after the Makeover is over, and we'll have results and pictures. then. If you can't wait, check out our Facebook page, where I'm sure people will be doing smartphone updates from the show!

As much as we have enjoyed having Hannah at YVEC, she will be ready to be auctioned to her new home on Sunday - we'd love to keep them all, but of course that's not possible! We wish Hannah and Cindy all the best at the show, and we hope someone wonderful adopts Hannah - we already know they will be getting a wonderful horse!

---

The Extreme Mustang Makeover, Norco, May 18, 19, 20, 2012.
What a wild and wonderful weekend Cindy and Hannah had! On Friday they competed in the Reining Pattern Class, followed immediately by the Rural trail Challenge. They did a great job at both, and by the end of that first day they were in 6th place overall. There are so many pictures of the event, it is easier to view them at Flickr.com than to put them all on this site, so check out Friday's photos here: http://www.flickr.com/photos/deserttrailrider/sets/72157629835136214/
Saturday's Trail Class was a standout performance for Cindy and Hannah. They accomplished all the arena trail obstacles so smoothly and easily the audience was actually gasping! At the end of the required tasks, they has 90 seconds to show off, and they did! Cindy took Hannah through an elaborate series of sidepasses and turns that left the crowd cheering.
After that, it was straight out to the Urban Trail Challenge, through the streets of Norco and down to the river. There were two water crossings, sections of beach trail, and various tasks in town that had to be completed. They did very well and then returned to the show ground to await the naming of the Top Ten. Pictures: http://www.flickr.com/photos/deserttrailrider/sets/72157629835517534/
Right before Top Ten, awards were given for all previous events, and CIndy and Hannah took third in the Trail Class and picked up a yellow ribbon. Then the names were called for Top Ten, in 'no particular order', although it turned out the order they were named was the order of go for the evening. The first person called was Cindy! Great that she made it, but she had to ride first all night, which can be a tough spot to be in!
The riders started out with a list of compulsory moves to perform in a short demonstration, then they would have 3 1/2 minutes for a Freestyle performance. Cindy and Hannah dressed in proper Dressage attire, Cindy in her Shadbelly and tails! They presented a very elegant picture, and English and Dressage riders in attendance cheered extra hard to see them. They gave a beautiful compulsory performance, followed by a thrilling Freestyle that included dressage moves, two verticle jumps set up as a single stride between, and ending with chasing a cow - all in the dressage gear! The cow was tough and got away from Hannah, but all the cows were tough that night and their ride still was the best demonstration of the versatility of the Mustang Breed seen all weekend. Pictures: http://www.flickr.com/photos/deserttrailrider/sets/72157629835786224/
At the end of the night, Cindy and Hannah finished 9th place in the scoring, and higher than that in the fan's hearts! So many nice people came over after the event to say how impressed they were with their performance and with the amount and level of training Cindy had been able to accomplish. All the riders did a great job, and the purpose of the event - to promote awareness iof the Mustang breed, was definitely accomplished that night!
On Sunday, the auction began with an impromptu soccer game between the riders using the large ball! After, each horse was ridden in by their trainer. The trainers got to speak about the horse and their experience training them, then the bidding began. New owners found horses, and in some cases the trainers themselves were able to take their own horse home. In Hannah's case it was a little of both!
Bidding was fierce for Hannah, another testament to Cindy's good work, and in the end her selling price was tied for second highest of the day! The winner? Joe, who boards his horse "Big John" at our ranch! So Hannah got a new owner, but we still get to see her every day. And Joe has already started his lessons with Cindy, establishing a bond with his new young mustang and learning how to work with her. Pictures: http://www.flickr.com/photos/deserttrailrider/sets/72157629835267670/
We are all very pleased and proud of Cindy and Hannah!